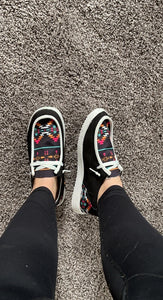 Lonestar Shoes
Black base with neon aztec detailing turquoise, white, pink, orange and rust.
Canvas material shoe. 
Inside shoe detailing with aztec and arrows white, grey and turquoise. 
Fits TTS. 
If you are a half size, you will want to size up or down. Size down for a more fitted shoe. Size up for a loose fitted shoe.